Restaurant Back Office Accounting
In a restaurant environment, there is a need for a specialized payroll system in the fine dining area. We specialize in TIP accounting and have 3 specialized reports.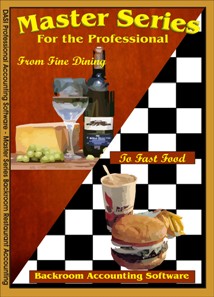 Key Benefits
Easy to install and setup
Windows 2000, 2003, XP, and VISTA compatible!
Features
Accounting Terminals, as many as you need up to 98
General Ledger with prior year open detail for reference and comparison
Accounts Payable with Automatic Check Preparation and Debit Memo for on-line Payments
Up to 13 accounting periods (12 monthly or 13 four week periods)
Payroll with TIP accounting and related reporting system
Payroll Check preparation and automatic signing and Direct Deposit of Payroll (NACHA file format generated)
Both Payroll and Accounts Payable blank check stock full MICR support
Through the internet training on your computer and phone system (requires high speed or broadband connection)
Complete full accounting system with the DASI General Ledger, Payroll, Accounts Receivable, Accounts Payable and Purchase Orders!
To download a demo of the DASI System…
You can request information by filling out the form on our Inquiries Page, or you can go direct by sending e-mail to, sales@hamelinsoftware.com.